Book Now
Time: 10.00am - 4.00pm
Date: Saturday 17 June
Where: Castlemaine Community House
Instructor: Rachel Grose
If you are looking for an outlet for your creativity, jewellery making can offer a rewarding choice. Creating a sterling silver ring is a great introduction to the joys of working with metal.
Participants will attend a workshop to learn how to craft in sterling silver and will be introduced to the following jewellery making techniques.
Ring sizing and how to custom fit a ring.
How to cut metal using a professional Jewellers saw.
How to texture and stamp metal using a hammer or metal stamp.
Soldering and annealing techniques using a jewellers torch.
Finishing and polishing a completed piece.
Included in the workshop will be:
All base metal sheet and wire needed to create your ring.
All tools and equipment needed to construct your ring.
No previous experience is necessary!
Dress-code:
Closed-toes shoes
Fitted clothing with no loose sleeves
All long hair must be tied back
Apron (if desired)
Booking close Wednesday 14 June
Date: Saturday 17 June
Time: 10.00am – 4.00pm
Cost: $210
Facilitator: Rachel Grose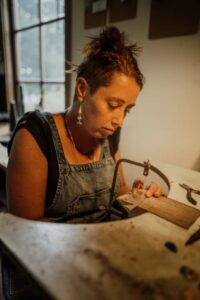 Rachel is a Ballarat artist with a degree in Gold and Silversmithing from Monash University. Rachel has spent over 20 years creating unique and custom jewellery pieces for clients across Australia. Her work is currently on show at Castlemaine Art Gallery, The Convent Gallery Daylesford, The Warrnambool Art Gallery and The Ballarat Fine Art Gallery.