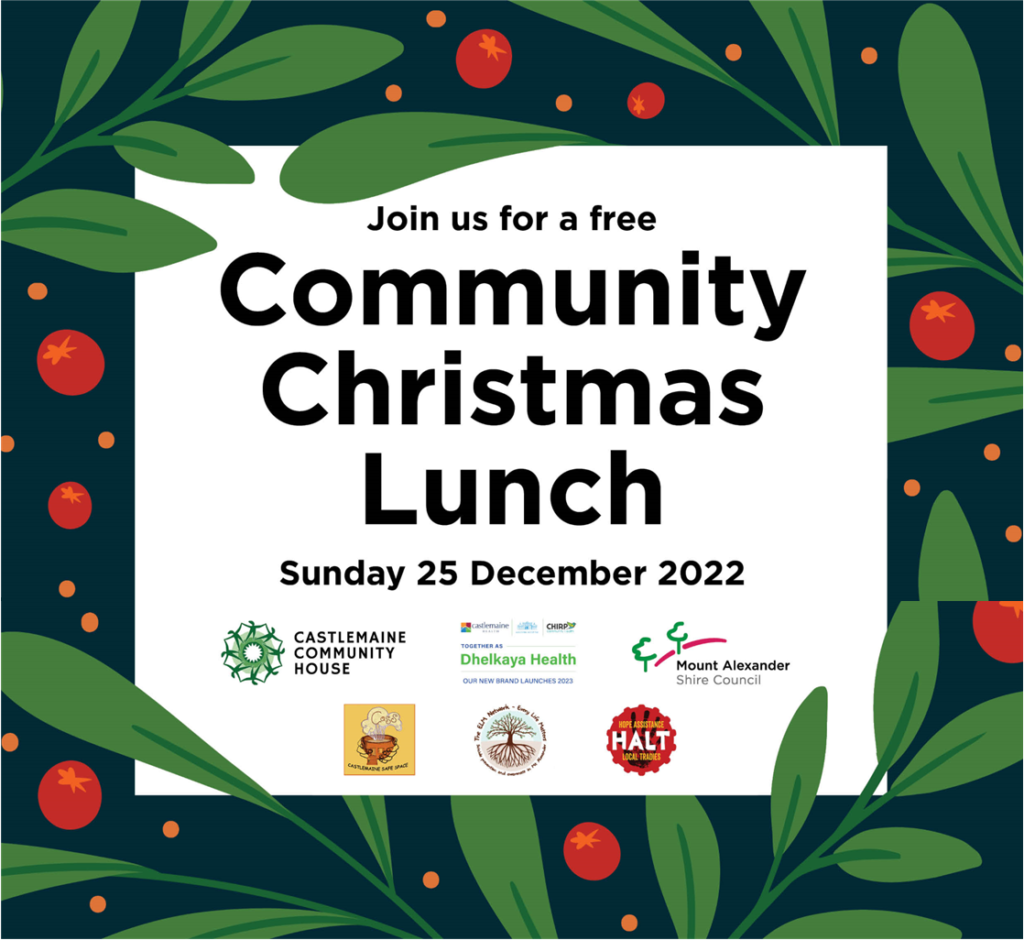 Share a delicious meal with good company on Christmas Day. Come alone or bring your family & friends. Enjoy music, activities and festivities!
Take-away packs & gifts are available for those unable to dine-in.
Date: Sunday 25 December
Time: 12.30pm to 2.30pm
Where: Castlemaine Town Hall, 25 Lyttleton Street (entry via Fredricks Street)
Cost: FREE
Bookings essential – click here to book or call 5472 4842
When booking online, please note:
Any dietary requirements
If booking for group – how many people
If you require transport

Transport:
This year we're considering offering free transportation to/from the Community Christmas Lunch within Mount Alexander Shire.
Maldon Neighbourhood Centre, Mount Alexander Shire Council and Castlemaine Salvation Army have generously offered the use of their buses, to help people get to the lunch and home again.
If you think that you, or your friend/family/neighbour, might like to hop on a bus to/from lunch, please let us know what area you are in, and how many people would like a seat on the bus.

Volunteer:
The Christmas Community Lunch would not be possible without the incredible team of volunteers!
If you would like to volunteer your time on 24th or 25th December to help with set-up, food prep, serving, clean-up/pack-up, assist with activities, or drive a courtesy bus, please call 5472 4842 or email reception@cch.org.au


Donate:
Can't attend the Community Christmas Lunch but are keen to contribute? Here are a couple of suggestions that might tickle your generous giving spirit….
We are seeking the following donations toward the 2022 Community Christmas Lunch:
small gifts for kids (big, small, all), handmade, homegrown, all is welcome and appreciated
produce and food: garden surplus of fruit and veg, a bag of rice, a bottle of olive oil, anything that will help add to the meals
art / craft supplies: we'll have craft activities happening on the day, any and all supplies (textas, craft paper/goods, etc) are welcomed
Cash donations – also goes a big way with supporting this free community event.

For more information, please contact Castlemaine Community House via 5472 4842 or reception@cch.org.au