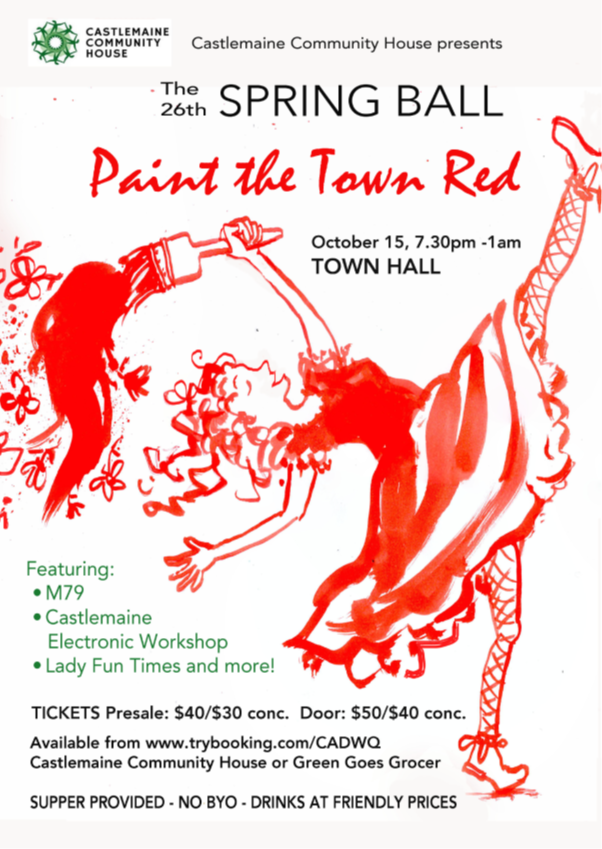 Date: Saturday 15th October
Time: 7.30pm-1.00am
Where: Castlemaine Town Hall, 25 Lyttleton St.
Tickets Presale: $40/$30 conc. or Door: $50/$40 conc.
Tickets on Sale from Monday 1st August – www.trybooking.com/CADWQ
The annual Spring Ball is the major fundraising event for Castlemaine Community House and has become an institution across the Mount Alexander Shire.
The first Spring Ball was held in 1994. Castlemainians love to dance and they absolutely adore dressing up. Over the past quarter-century, an eclectic array of Spring Ball themes has provided ample opportunity for both: Rock n Roll, Funk, Punk, Reggae, Celtic, Big Band, Klezmer, Bollywood, the 1960s, 1970s and 1980s, A Dark Night in Wonderland, Shipwrecked and more!
This year's theme is 'Paint the Town Red'. Dress up however you like: wear your favourite red T-shirt and shorts or red satin ballgown; throw on your shiny red boots or come as the red power-ranger!! The world is your (red) oyster. Everyone is welcome.
The Spring Ball will be held at the Town Hall on Saturday 15 October. Save the date and start planning your costume now!!
The Ball is organised by a volunteer committee. If you would like to be involved or have any questions, contact castlemainespringball@gmail.com.
More up-to-date information, including photos of past Spring Balls, can be found on the Castlemaine Community House Spring Ball Facebook and Instagram pages.