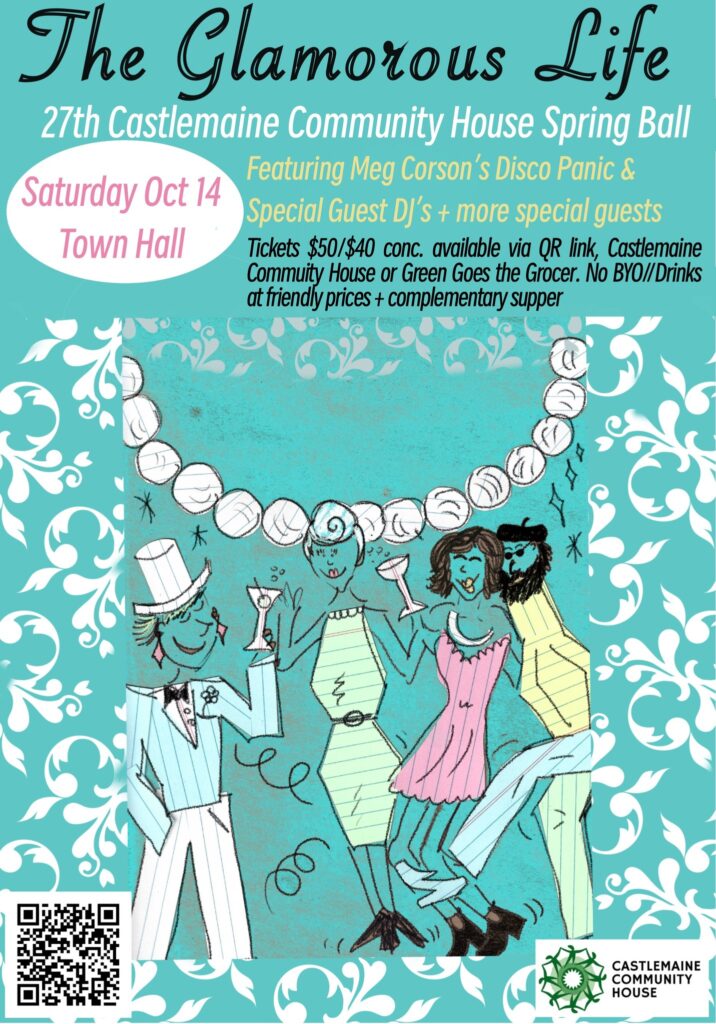 Date: Saturday 14th October
Time: 8.00pm-1.00am
Where: Castlemaine Town Hall, 25 Lyttleton St.
Tickets: $50 (Full) / $40 (Concession)
Tickets on Sale Now – https://www.trybooking.com/CKDAL
If you want to avoid booking fees, paper tickets can purchased from Castlemaine Community House or Green Goes the Grocer (cash only).
The annual Spring Ball is the major fundraising event for Castlemaine Community House and has become an institution across the Mount Alexander Shire.
The first Spring Ball was held in 1994. Castlemainians love to dance and they absolutely adore dressing up. Over the past quarter-century, an eclectic array of Spring Ball themes has provided ample opportunity for both: Rock n Roll, Funk, Punk, Reggae, Celtic, Big Band, Klezmer, Bollywood, the 1960s, 1970s and 1980s, A Dark Night in Wonderland, Shipwrecked and more!
We all live the 'Good Life' in beautiful Castlemaine and the wider Mount Alexander Shire, but how often do you get the chance to frock up and feel fabulous? Well, here's your chance!

Castlemaine Community House presents 'The Glamorous Life' Spring Ball. Dress up however you like: top hat and tails, glitzy glamour, Hollywood glamour, trash glamour, bogan glamour, fantasy glamour, etc. So many fun dress-up options!
More up-to-date information, including photos of past Spring Balls, can be found on the Castlemaine Community House Spring Ball Facebook and Instagram pages.